Mission
Company Vision
Our vision is to provide products & solutions as the leading provider of Intelligent building solutions in Japan.
To achieve this vision, we will use the state-of-the-art technology and world-class product portfolio to provide integrated intelligent building solutions.
Our mission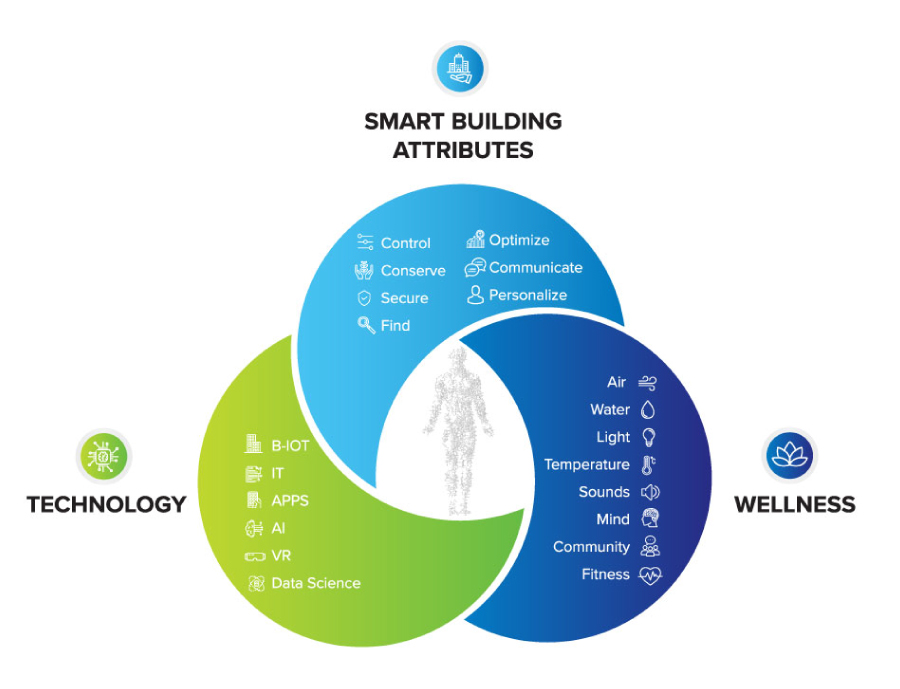 To deliver HUMAN CENTRIC BUILDING AUTOMATION designed to enhance well-being as central value in the space where we live, work, sleep and play.
Our Strategy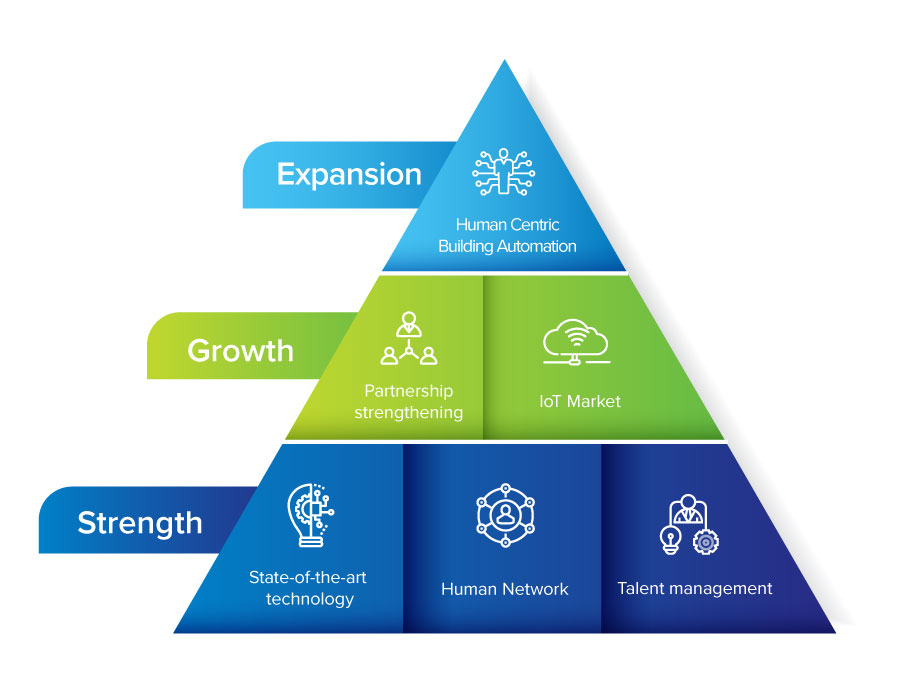 Here, we will explain our strategic priorities.
The six segments of the pyramid are the core of our vision.
The pyramid is divided into three sections: Strength, Growth, and Expansion.
Foundation of the Strategy: Strength
State-of-the-art technology
Our team has a wealth of industry sector experience and are well versed in building services, controls and automation, energy analytics, network infrastructure, cloud, data science, IT and IoT.
This combination allows Sanko IB Co.,Ltd to maximize the value we provide to our clients. We offer a holistic view to managing building automation with a different type of solutions: Smart Buildings, Smart Hotels, Smart Data Centers, Smart Offices, and Smart City.
Human Network
Our affiliation with the global technology think-tanks and our human network with the most thought leaders around the world, help us to form rapidly mutual and beneficial business relationships to create businesses in Japan.
Talent management
Without talented people, it is impossible to achieve our goals. Talent management is an essential part of our business strategy. Our policy on this area will enable Sanko IB to retain topmost talented and skilled employees. Our employee's involvement and employee's recognition will ensure our colleagues the opportunity to develop professionally and the company to continue attracting top talent in the market.
Middle of Strategy: Growth
Partnership strengthening
As we expand our business, we want to remain relevant to our customers. As a result, we renew our commitment to existing business partners that bring outside expertise and resources that will allow Sanko IB to be a thought leader in our industry.
IoT Market
The rapid plunging cost of IoT sensors, the rise of cloud computing, technological advancements in broadband and internet, increasing focus of supplier toward IoT technology will accelerate the growth of the market in the next five years. APAC is expected to contribute majorly to the IoT industry and is anticipated to witness enormous growth. Our company is already actively involved in delivering IoT solutions for our customers.
Top of Strategy: Expansion
Human Centric Building Automation
As a technology company, we are committed to delivering breakthrough intelligent spaces where people can spend time at healthy offices, rest at comfortable hotel rooms, but more importantly, we want spaces that serve as an opportunity for recovery and energize both physical and mental.
From the edge to the cloud; we will help to connect all the endpoints in buildings that touch our lives every step of the way: air, water, light, movement, thermal comfort, sound, mind, and community.
PRODUCTS & SOLUTION