Integrate all devices and building systems with "open protocol"
The Niagara framework supports all standard network protocols (LonWorks, BACnet, Modbus, oBIX) used in existing building management systems, So it integrates devices used in existing buildings and BAS, we will realize an intelligent smart building.
With this open protocol / building automation technology, you can manage and central monitoring not only one building but also several buildings with different construction years.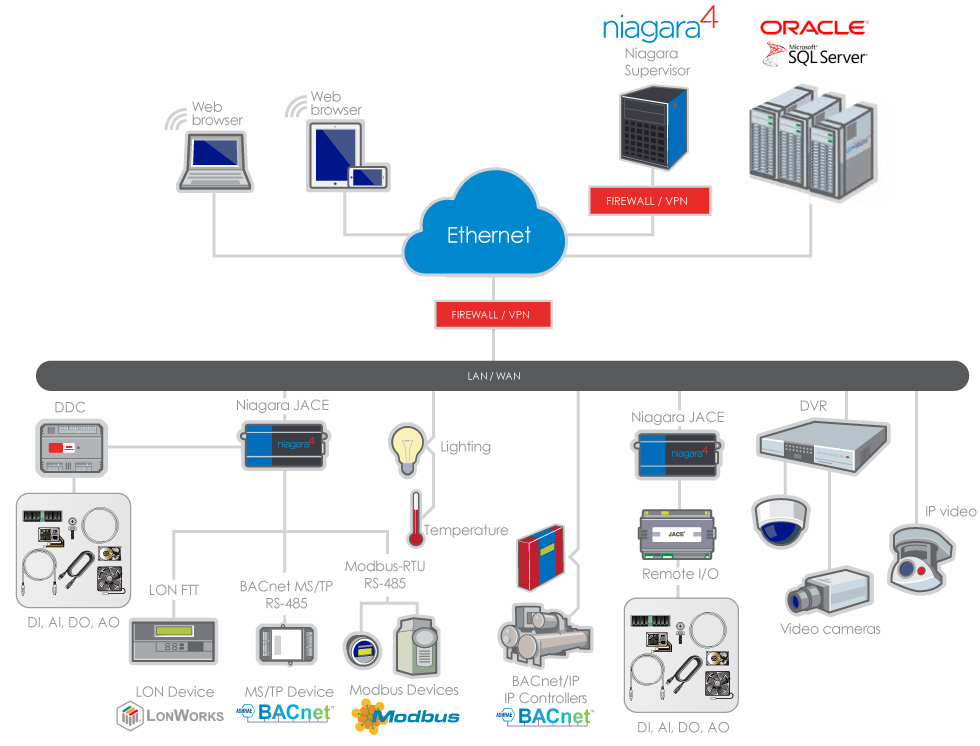 Benefits of the Niagara framework
Not only "visualization" but also management and control can be realized.Reduce annual energy consumption by 15% to 35%
Low cost, cost-effectiveness solution
It is possible to manage and control "anytime anywhere" from the web browser in real time. Remote management and control can be done easily and speedy from a smartphone or iPad. As local maintenance is reduced, labor costs can be reduced.
Regardless of manufacturer or communication protocol, we can integrate all devices and building systems. (Supports standard network protocols such as LonWorks, BACnet, Modbus, oBIX)
It has high applicability to existing systems, can extend and maintain the life cycle of existing systems, and does not waste investment in existing systems.
Converts and integrates various system protocols. It collects data such as input, output, setting value, schedule, control parameter etc. from various devices and graphically displays them as objects.
You can manage and central monitoring not only one building but also several buildings. Start with a small scale and you can extend it.
 You can link with twitter, facebook, google maps, yahoo / google weather reports, etc.
Connect, control, normalize and analyze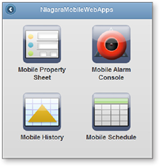 Empowering users with practical tools
Niagara AX is an open, Java-based framework that can connect almost any embedded device or system—regardless of manufacturer or communication protocol. It includes a comprehensive graphical toolset that lets you build rich applications in a drag-and-drop environment and easily manage your assets using a standard web browser.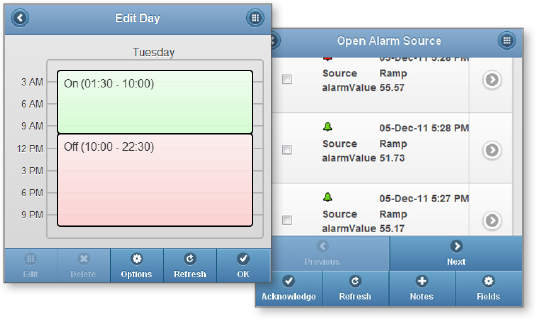 Fully loaded
The Niagara AX framework is packed with features and functions that are easy to build on rather than starting from scratch. Multiple embedded platforms allow for integrated control, supervision, data logging, scheduling and alarming—and Niagara AX features a comprehensive set of drivers. Support for Internet communications and Web services is infused throughout Niagara AX so you can quickly develop and deploy your applications and create a robust user-interface experience.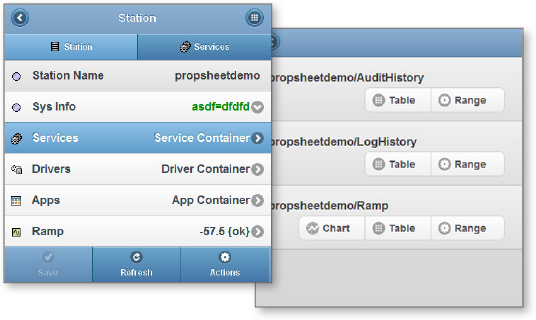 A true foundation
The Niagara AX Framework is proven, adopted in multiple markets and industries, and deployed in more than 75 countries—and its many benefits are easy to see. Reduce project implementation requirements. Free up your organization from supporting high-cost, time-consuming development functions. Increase capacity for product innovation. Build products and applications with unparalleled reliability, security, operational integrity, flexibility and bottom-line value.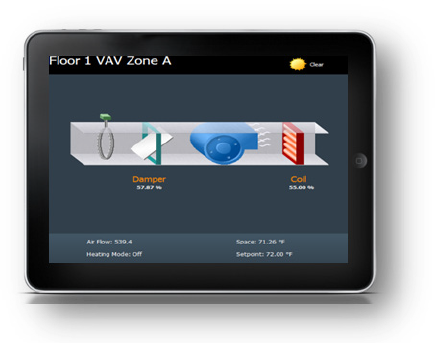 Single tool
Everything you need to get started is at your fingertips with a single integrated toolset for rapid and easy implementation that reduces development time, allowing you to get to market faster.
General architecture of Niagara BAS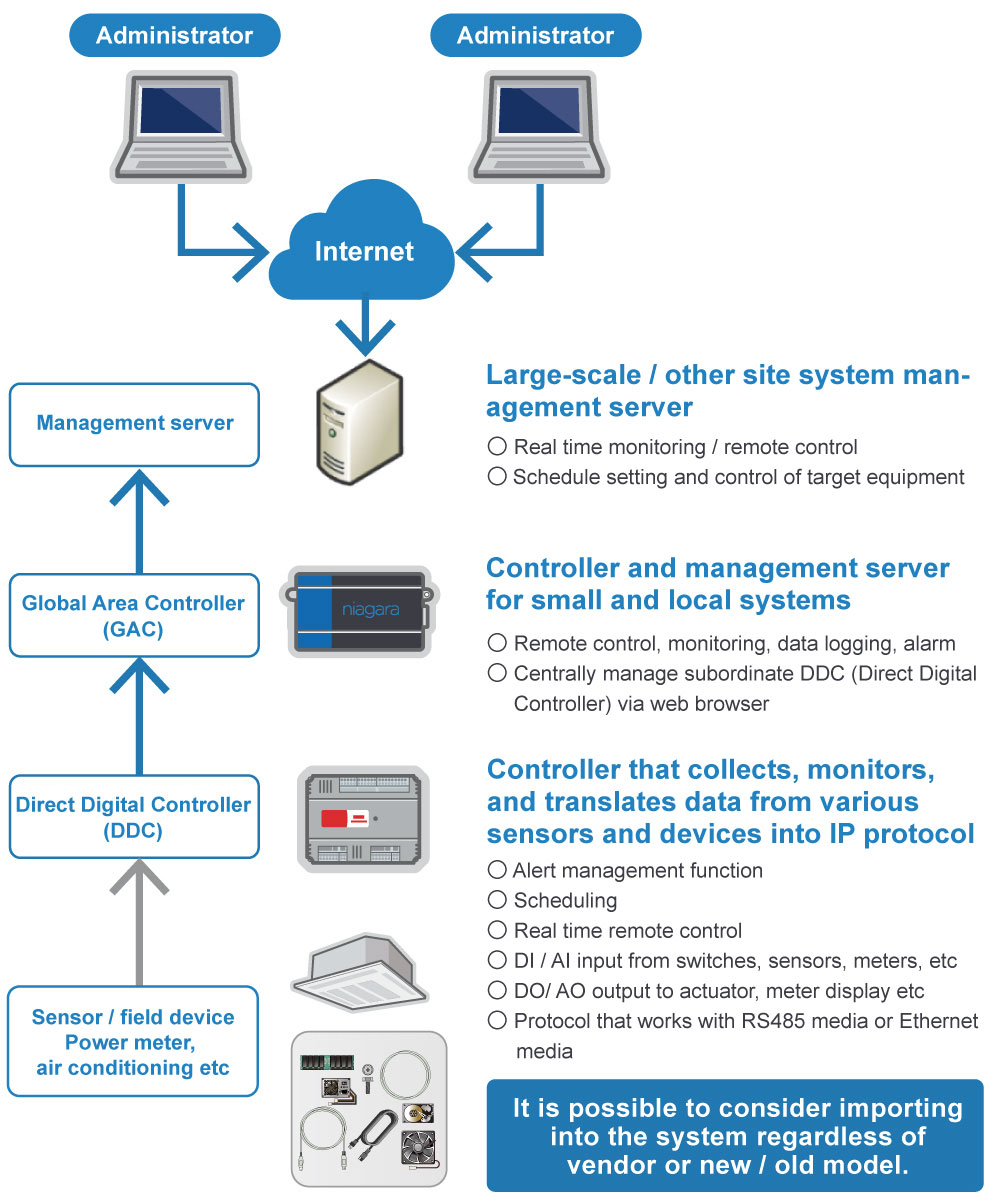 Niagara loadmap
Fourth generation

2015 ~

Niagara 4

Third generation

2005 ~
Niagara AX

Second generation

1998 ~
Niagara R1
2000 ~
Niagara R2

First generation

1996 ~
Tridium
Performance
Introduced in more than 75 countries and regions
More than 3000 integrators worldwide
More than 100 OEM vendors
More than 12,000 users are participating in the Niagara Community
There are over 18,000 certified application engineers
There are over 400 certified development engineers
We are introducing over 750,000 places
More than 20,000,000 smart devices are connected
Strong support system by engineers
We strongly support system development by experienced engineers.
Consulting

Strategy of implementation and profile
We will create a road map of implementation and release date
Identify risks and suggest mitigation measures
Training

Training for system developers and sales engineers
We prepare a wide range of contents from basic to actual case
Design

Optimum design is tailored to customer needs such as system design, software, hardware design etc
Test

Support for solving problem occurring in source code
Preparation of required documents
Creating a test / issue report
In case of trouble related to BACnet, explanation of details and consultation on solution
Integration

Support to make customer's product BACnet specification
Integrate to device using proprietary BACnet stack (IP, MS / TP) API Operation in Linux, Windows and OS independent environment
Application development

End to end application development service
Development according to customer's requirements
Hardware / software / firmware design, implementation
Function test, practice test for BACnet certification
Simuration

Hardware / software / firmware design, implementation
BACnet stack (IP / MSTP) integration
Function test, practice test for BACnet certification