Provider of IoT Automation that creates Intelligent Buildings.
In anticipation of a declining working population due to the declining birthrate and aging population, automation and manpower saving is required in all fields.
Sanko IB wants to "connect" IVA-equipped cameras with AI analytics and automatic control, as well as sensors, to achieve true automation to assist and support the people who work there.
Application Friendly Building Operation
Our mission is to innovate customers working environment and to improve their operations through unique solutions that only Sanko IB can provide.
Solutions combine worldwide state-of-the-art products with our 35-years cultivated Technologies and Expertise.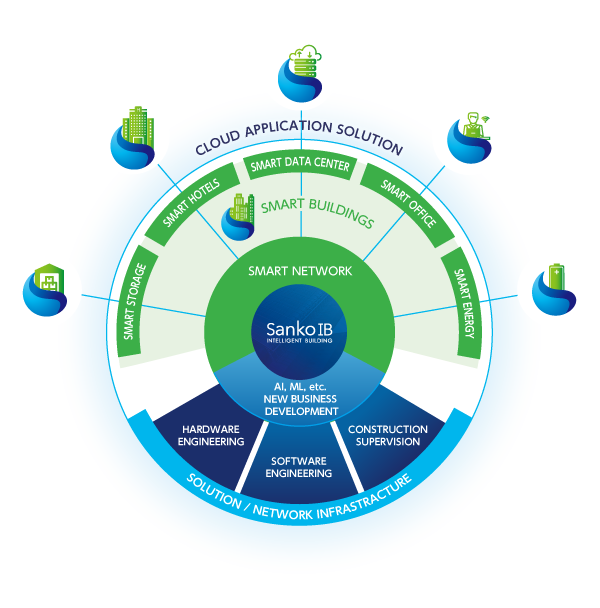 Our Solution
SMART BUILDING
Solutions for next-generation smart buildings utilizing IoT
After all devices of air conditioning, lighting and security system of the building are connected in one network,our solution will save the energy consumption and achieve a total building optimization by gathering data from each device, analyzing it and automating its control.
SMART BUILDING
SMART HOTEL
Solutions providing high-end hospitality services under an energy saving system
IoT in guest rooms with lighting, air conditioning, curtain and any other services all connected in one Apps. Increases guest experience and enhances the operation.
SMART HOTEL
SMART DATA CENTER
Solutions supporting the Cloud Business with highly reliable monitoring technology
Real-time monitoring of several data centers through one monitor. Improves uptime, operational efficiency and provides reliable data to maximize the energy management.
SMART DATA CENTER
SMART OFFICE
Solutions allowing people work in a comfortable and healthy environment
Lighting, air conditioning, blinds, staff presence all integrated to BAS(Building Automation System), being controlled under one system.
SMART OFFICE
SMART SELF STORAGE
Solutions enhancing the operation efficiency of Self Storage Business
Centralized control of room access, energy consumption and air conditioning usage. Decreases the running cost and supports the business with an efficient operation.
SMART TRUNK ROOM
SMART NETWORK
Solutions for design and deployment network infrastructure that supports Intelligent Buildings
Providing Gigabit-Speed cabling & Wi-Fi network systems and industrial Ethernet Switches for corporate/commercial buildings, data centers, hospitals, universities, and so on.
SMART NETWORK
SMART ENERGY
Solutions of energy-saving by PPS without initial investment
LED lights will be supplied to customers contracting our PPS service. Drives down the initial and running cost and reduces CO2.
SMART ENERGY